We've developed our strategy for the year, it's approved by our stakeholders, and now it's game time. The game we're playing is not just about implementing that initial vision, but about doing it better, every day, according to changing market conditions and staff performance.
So how do we put our organisations in the best possible position for success? We get visibility over those variables and sit above the insights like Tom Cruise from Minority Report guiding our teams with the insights they need to make better decisions.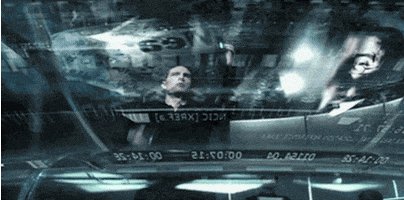 If we think the success of our strategy is in the implementation of that first document alone, we need to think again. Here's what the lack of reporting visibility is really costing you.
In brief:
Hard cash: When we're not monitoring channel attribution performance, our investment could be in the wrong place entirely or could be working harder for us. Could there be opportunities that we're missing out on due to a lack of visibility? Or worse, are we paying to acquire customers that are dropping off in the funnel or post-purchase?
Staff accountability: insights without action are just great noises to murmur at the boardroom table. What's our implementation plan for ensuring staff follow through on the changing vision? How can we bring visibility to performance so we can empower our teams to be agile with their problem solving? How can we spot (ahead of time) staff who are not likely to hit targets and support their skill development where it's needed?
Market opportunity & innovation: Once we have our house in order, how do we look ahead? In a world where disruption is on every executive agenda, what metrics do we need to help us drive innovation, defend existing market share and acquire new markets?
Hard cash:
Investment split: Is your investment in the right place? You don't always have to make bold moves to win big and shifting the investment split is often the fastest way to see quick wins. The key is in a great marketing funnel and channel attribution dashboard.
Measuring the rate in which the market opportunity is moving down the funnel (from attention, to engagement, to action) coupled with understanding which channel tactics are being implemented at every layer, give the only insights needed to test an investment strategy.
A couple of examples of small investment split shifts we've made that have resulted improved campaign performance:
When top of funnel (cool "attention" audiences) are low, reduce retargeting and increase programmatic, video, broad targeted social.
When top of funnel audiences are large but are not moving to engage, review middle of funnel ("engagement") data capture mechanisms (such as opt-ins, enquiry pages) and invest in improving the experience. Investigate testing a new opt in, or tweaking the design of the page.
Customer and staff experience: Is there anything worse than losing a sale? You've heard it before that it can cost 5x more to win a new customer than keep an existing one. But how do we simplify measuring where the drop off is occurring, both pre and post sale?
Our favourite way to measure CX performance is through mapping physical touchpoints just the way we would our website. Geru is our go-to funnel simulation tool for this. This simple, lightweight and fully customisable tool helps map the customer journey with metrics to bring visibility to the "right now" while giving the option to forecast models for what we might change to see impact to the drop off rate.
Note that this view just provides the visibility over the "where" – getting to the "why" requires some clever investigation and accountability focused leaders to dive deep, train and develop their teams.
Staff accountability:
Effective implementation of vision: Visibility over current performance is great for understanding how to improve, but how do we put the vision into an actionable plan and measure the follow-through from our team who is working together to achieve it?
KPI's (OKR, whatever you fancy) dashboards to the rescue. We're firm believers that open visibility of team-set KPI's is essential to crafting a truly data driven culture that's permeating with accountability. This can be achieved in many ways, from virtual project dashboards to physical data rooms.
With the right champion, staff can quickly adapt and learn that it's not about blame, but about empowerment and teamwork. Allowing the writing to quite literally, be on the wall, fosters a culture of teamwork and will enable teams to be agile and nimble in their approach to problem solving.
The trick is also ensuring however that the most effective KPI's or OKR's have been set up in the first place, ones that contain "lead metrics" that will forecast the outcomes promised to the board.
The combined effectiveness of meaningful KPI setting and data leadership in an organisation is the best risk mitigation strategy for project delivery on time and on budget.
Read more where this came from: Not delivering on time or on budget? Your KPI's could be letting you down. Are your KPI's set up to forecast output?
Market Opportunity:
Competitor movements & consumer trends:
Igor Ansoff first introduced the strategic planning framework that guides our growth strategy, The Ansoff Matrix.
Whether you're growing into new markets or defending existing market share, a combined focus of (1) keeping one eye on competitors and (2) on wider market movements and consumer trends is the ticket to understanding how we can cut through with the budget and resources we have available.
We first, want visibility over our relative position. Are we the challenger brand or the market leader? Where are we similar and different, not just to direct competitors, but to adjacent ones?
From here, a dashboard that brings visibility to existing brand health and offers insights into changing customer appetite can be crafted and considered alongside your positioning map for "where you play". '
Here are the key metrics to measure:
Total brand mentions over time (increasing or decreasing brand equity) and associated sentiment
Total product/service mentions for offering and associated sentiment
Total industry/sector interest (mentions and sentiment) from Government stakeholders
Device usage percentages for owned real estate
Content consumption formats (video, written etc.) total views and engagement
Customer feedback data
Customer segments, compare demographic and behaviour data and invest further in higher performing markets
These metrics are great if you're an established business needing to defend market share, stay competitive and innovate – but they'll cost you.
Depending on the available budget for this kind of measurement, social listening tools like Meltwater and Talkwater start from $8K AUD per year. Then, if you're looking to later third party insights tools like Global Web Index can set you back even more.
If you're not quite ready for this investment, alternative, light touch methods of staying on top of trends include signing up for TrendWatching and then of course, there's Google Trends.
---
Are you ready to adopt a data driven approach and make your most profitable decisions? Ask me about my Signature Marketing Intelligence Mentorship program. Not sure where you need to get started? Book a complimentary 20 minute virtual coffee discovery call with me.